Welcome to the Edison Pageant of Light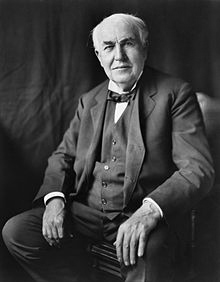 Edison Pageant of Light exists to perpetuate the memory of Thomas Alva Edison. Although he lived in New Jersey most of his lifetime, Fort Myers became the beloved winter home to the inventor. Edison established his winter retreat in Fort Myers in 1885 and spent many seasons at his estate until his death in 1931. While in Fort Myers, Edison brought national recognition to what was then a small town, enticing other notables to relocate to the area.
The Edison Pageant of Light was the inspiration of the late Robert Halgrim, newspaperman and personal friend of Mr. Edison. Mr. Halgrim wanted to create a celebration paying homage to the great inventor which would become a living memorial to the man himself. The Fort Myers Woman's Community Club and the Jaycees enthusiastically helped him develop the mythical kingdom of Edisonia concept.
In 1938, seven years after Thomas Edison's death, the related events became annual events and have remained since pausing only from 1942-1945 during the war.
The organization enjoys putting on a King & Queen's Ball, a Coronation Ball, the Thomas Alva Edison Birthday Party & an Edison Festival of Light Parade Party. These popular and ever expanding events are a meaningful and fun tradition for members and community alike. These events take place and experience great success due to the generous efforts of Edison Pageant of Light members, committees and the Pageant's community supporters.

 Seeking community nominations for the 2017 Royal Court of Edisonia
Nominees should display the qualities Thomas Edison himself embodied; high achievement, an interest in the world around them (community service), and a drive to succeed.   Additionally, nominees must make a commitment to attend both Royal Balls in February for 2 years. Court members must attend court functions, host at Holiday House, participate in the Edison Festival of Light Grande Parade of Light and additional Edison Pageant of Light functions.
Nominees must be between the age of 19 -25, must have graduated from high school by September 1, 2015 and must have lived in Lee County for at least one year prior.
Neither the young person being nominated nor the person submitting the nomination need to be a member of the Edison Pageant of Light.
For more information and a nomination form, please contact the Pageant office at edisonpagent@centurylink.net or by phone at 334-2550.